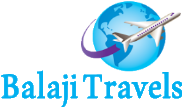 Balaji Travels, Kolkata Our chief mission is to become a meaningful resource for tourism and vacations. Our mission is to provide Excellence and Quality service to our customers promptly and exclusively. All the professionals at *BALAJI TRAVELS* are masters of their trade and everyone brings with them a unique set of expertise, adding value to the traveler's overall experience of the tour. To put it simply, we know what a tourist anticipates and more than that we know what it takes to satisfy them.
Share Fairface reviews with your friends and help them making the right decisions.
Are you a business owner?
Click here to learn about Fairface business solutions.