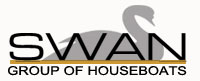 Swan Group Of Houseboats Swan Group of Houseboats is super deluxe houseboat Accommodation, located in Ghat No 12, Dal Lake, close to Shankaracharya Reserved Forest & Nehru Park, Boulvard Road, Dal Lake, Srinagar, Kashmir.
Share Fairface reviews with your friends and help them making the right decisions.
Are you a business owner?
Click here to learn about Fairface business solutions.