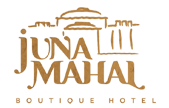 JUNA MAHAL In pursuit of our most treasured possession, it was 7 years ago that we formulated the idea of "Juna Mahal" – an epitome of a masterpiece. After embarking this journey with immense hard work, dedication & genuine commitment, at last we have an accomplishment beyond expectations! Our motto had always been to stand out in every aspect of Hospitality, Services, Luxury, Comfort, Design and Architecture, and offer our guest a vacation nothing less than the best.
Share Fairface reviews with your friends and help them making the right decisions.
Are you a business owner?
Click here to learn about Fairface business solutions.