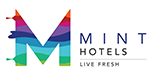 Mint Magna Suites Mint started it's operations with in 2015 with a single minded objective to provide a Pan-India Mid-Budget Hospitality Brand that can cater to the aspiring, upwardly mobile, urban traveller with best-in-class services and ensure that they "Stay Fresh, Live Fresh" each time they choose Mint as a Hospitality partner.
Share Fairface reviews with your friends and help them making the right decisions.
Are you a business owner?
Click here to learn about Fairface business solutions.