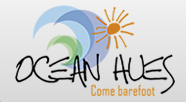 Ocean Hues Beach Resort Ocean Hues is a beautiful cottage, just facing the sea, that has all the modern facilities to make your stay a comfortable and relaxing one, at the same time allowing you to enjoy nature in all its glory. Watch the beautiful sea with its myriad hues, the waves that rush in to kiss the sand and the breathtaking sunsets that transform the sea into burnished gold. Truly a picture of tranquility.
Share Fairface reviews with your friends and help them making the right decisions.
Are you a business owner?
Click here to learn about Fairface business solutions.