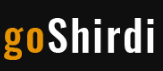 Anisys Solutions GoShirdi We Make your Shirdi 'YATRA' more meaningful and easy And let you seek 'Baba' with all your heart... People today flock shirdi in ever-increasing numbers to pay homage to the Divine and to experience the truth of Baba's promise that he would be active in answering devotees'prayers even from his tomb. Baba unfailingly fulfils his commitments to his devotees by coming to their rescue in times of crises.
Share Fairface reviews with your friends and help them making the right decisions.
Are you a business owner?
Click here to learn about Fairface business solutions.