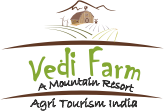 Vedi Farm Resort Most of us have been to popular weekend getaways such as Matheran, Mahabaleshwar, Lonavala etc. However, these places have become too conventional now since all people can do here is go sight-seeing, laze around in the room or play some indoor games. What if you were given a chance to visit the best resort near Mahabaleshwar which is a farm surrounded by mountains.
Share Fairface reviews with your friends and help them making the right decisions.
Are you a business owner?
Click here to learn about Fairface business solutions.